---
Product Description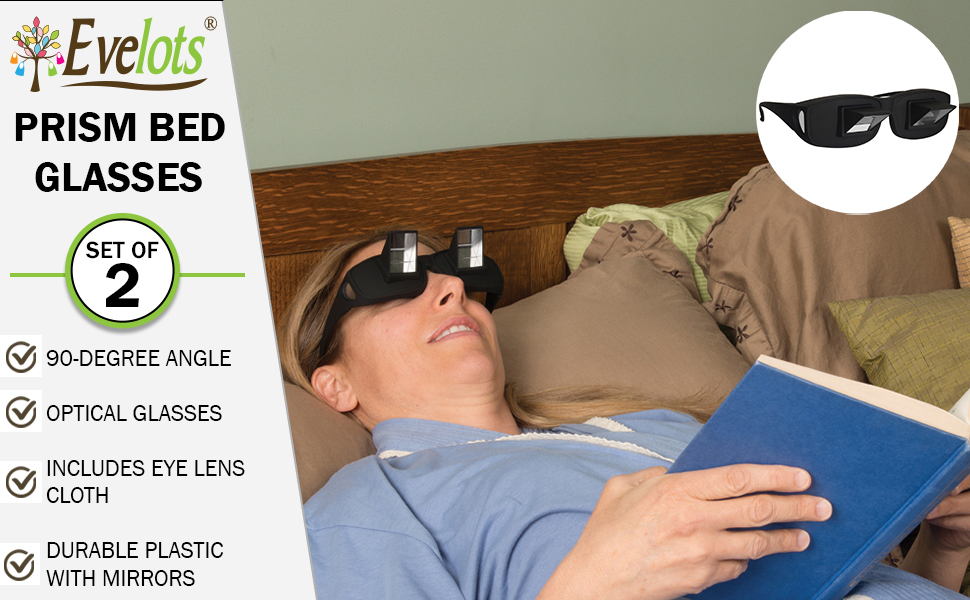 EVELOTS SET OF 2 PRISM BED GLASSES
Color: Black
No more stiff neck, mountains of pillows, or straining to get comfortable while reading or watching TV in bed. Prism bed spectacles allow users to read text or watch television from a lying down position, without having to crane or bend their neck. This position helps prevent neck and eye strain from awkward and uncomfortable reading positions, as it allows users to lay completely flat in bed with a book propped up in their lap or view the television on a wall or table.
EASE NECK CRAMPS AND EYE STRAIN

HIGH DEFINITION OPTICAL PRISM

INCLUDES EYE LENS CLOTH

HIGH QUALITY

CONVENIENTLY WEAR OVER EYEGLASSES

Easily fits over existing eyeglasses. These lay flat bed reading glasses are perfect for recovery or limited mobility, bed-ridden patients, those recovering from surgery, pregnant women on bed rest, or anyone else needing to remain in bed for long periods of time.

MEASUREMENTS

Glasses measure 8 inches long x 6.5 inches wide x 1.75 inches high. One size fits most. Made of durable plastic with mirrors. Lightweight and easy to travel with on planes or trains.

HIGH DEFINITION OPTICAL PRISM

Prism spectacles can be worn over prescription glasses for a crisp and clear image for any user.